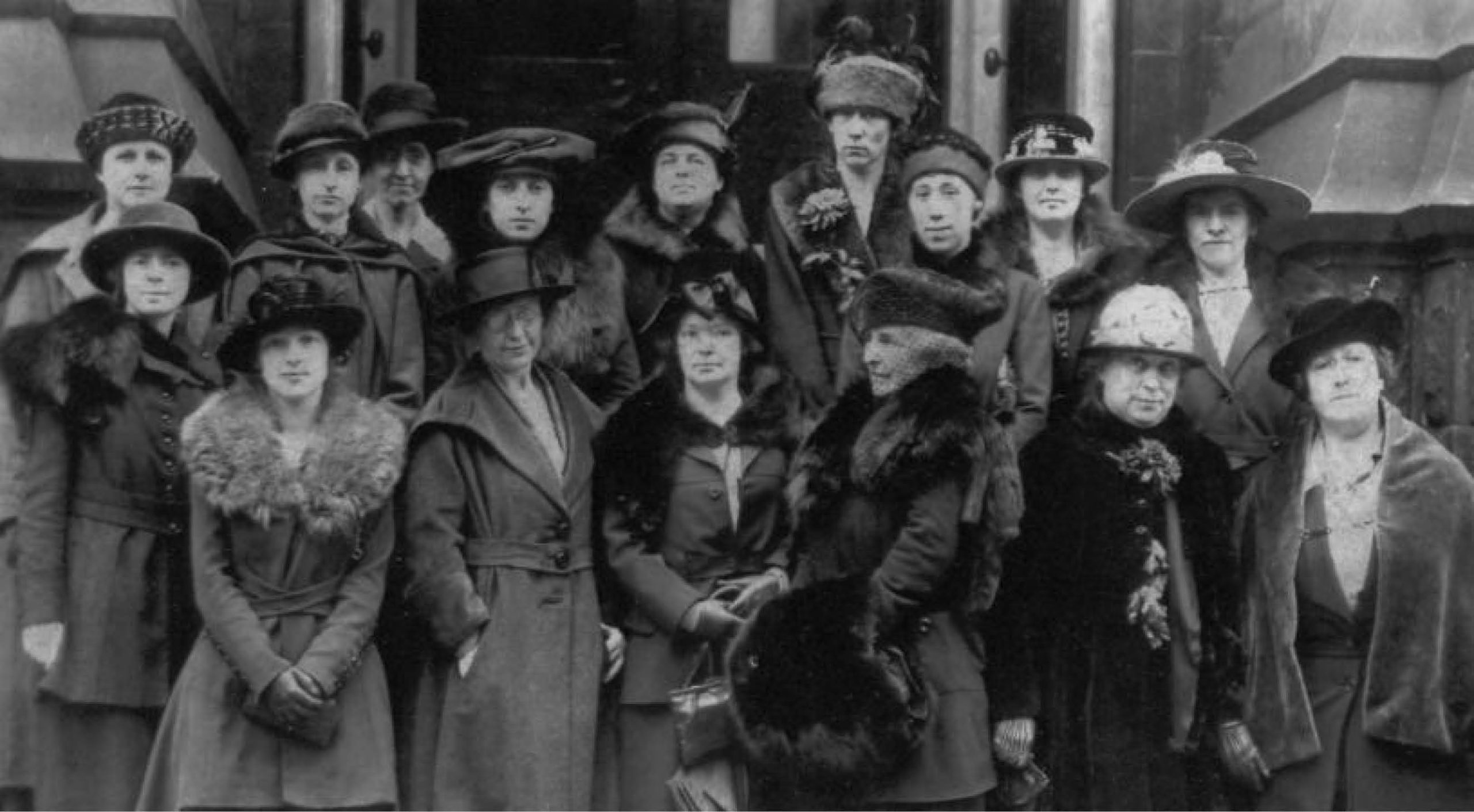 Beginning of Zonta International
In Buffalo, NY in Jan. 1919, five women guests at a Kiwanis social conceived of a new service club- one composed of all women who were recognized leaders in business and the professions.  The purpose was to be the standardization and dissemination of business principles & practices and to provide service to humanity through cooperative efforts. 
 During the spring & summer of 1919, clubs were organized in Buffalo, Rochester, Binghamton, Elmira & Syracuse, NY.  The Confederation of Zonta Clubs was thus founded on November 08, 1919 in Buffalo. Its first theme was education for girls and young women. 
Chartering of Zonta Club of Hamilton

organized March 3, 1928 by Marian DeForest and Florence Fuchs from the ZC of Buffalo
23 charter members with Jean McBride, CPA as charter president
Service through organization
Our club was very active in the past with starting other Zonta clubs
1929 ZC of St Catharines
1951 ZC of Galt-Preston (became ZC of Cambridge)
1959 ZC of Oakville (later disbanded and reorganized by ZC of Burlington)
1960 ZC of Woodstock
1962 ZC of Stratford (later disbanded, but reorganized by member Judy Lindsay in 2000)
1963 ZC of Burlington
1971 ZC of Hamilton 2 (became the first 2 club in North America and we became Hamilton 1)
1982 ZC of Freeport/Lucaya Bahamas (organized by Joan Heels (then a member of ZC of Montreal) with help from her mother, our member Mary Heels)
A spotlight on some members from our past… to be regularly rotated..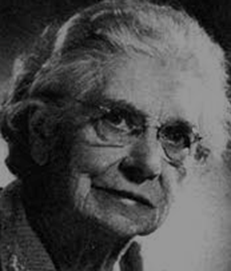 Dr Elizabeth Bagshaw
Member 1937 to 1982
Dr. Elizabeth Bagshaw, is perhaps best known as one of Canada's first woman physicians and the medical director for the country's first birth control clinic, located in Hamilton.
She was born in rural Ontario on October 19, 1881. After her father died, she sold the family farm and along with her mother and sister, moved to Toronto, where she finished medical school.
After working in Hamilton for a summer, she moved there permanently and maintained a practice for over 70 years.  At a time when providing information about birth control was considered a crime, she served as the clinic's medical director for more than 30 years.
She was the recipient of many awards including the Order of Canada, the Governor General's Person's Award and induction into Hamilton's Gallery of Distinction.
She retired in 1976 at the age of 95 as the oldest practicing physician in Canada at the time.  She died at the age of 100 on January 5, 1982.
Her reputation and impact in the local community live on through her legacy as a member of the Zonta Club from 1937 to 1982, and through an elementary school and a lectureship at the Hamilton Academy of Medicine, both in her name.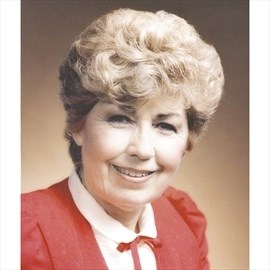 Anne Hamilton Jones
Member 1958 to 1991
Anne Hamilton Jones 1919-2019 was a trailblazer, one of a small number of women who broke into the male-dominated world of Hamilton politics in the latter half of the 20th century. She spent 23 years in municipal government, including 12 years as the first chairman (that was the official title) of Hamilton-Wentworth region. Anne was very involved in leadership roles in the United Church, with Young People's, Women's and community groups until her husband's sudden death in January 1962 leaving her with two young children; Rory age ten and Elizabeth age two. Despite this tragedy Anne proudly raised her children, continued her husband's ecumenical work and lecture series while becoming a Life Insurance Agent for Canada Life Assurance Company; achieving the designation of Chartered Life Underwriter (CLU).
She was soft-spoken, dressed elegantly and did not like to reveal her age. But she was not intimidated by her male colleagues, such as Hamilton mayors Vic Copps and Jack MacDonald when they attacked the region. Anne ranks with other pioneering Hamilton female politicians such as Ellen Fairclough (who told Jones to change her hairstyle), Norah Frances Henderson, Ada Pritchard and Sheila Copps (who sparred with Jones at times).
In 1986, Anne was appointed head of the embattled Ontario Film Review Board, which was under fire at the time, but the Liberal government reappointed her to a second term. Anne served on many boards, such as GO Transit, McMaster University, Mohawk College, and the YWCA. In 1994 she was inducted into the Hamilton Gallery of Distinction.
Some long lasting service projects
1946 to 1966 Stewart Memorial Church
From 1946 until 1966, we assisted Stewart Memorial Church. The Church was founded in 1835 by fugitive slaves and free black men and women.
annual attendance at the Church (first Sunday of November)
Supplied flowers for the altar
donated regularly to the Education Fund
donated regularly to the organ Fund
entertained choir members at a supper prior to an evening service once a year
1950 to 1988 Salvation Army
for almost 40 years, the club contributed to the Salvation Army at Christmas time.
1955 to 1999 Citizenship Court
for many years, we acted as hostesses for a reception for new Canadians after their citizenship ceremony
provided brochures to new citizens with information about the Government in Canada at municipal, provincial and federal level
original brochure was drawn up by Agnes Hay, an honorary member of the club. It contained information about Canada as to government,population, area, political parties, and laws of the country. It also contained information about Zonta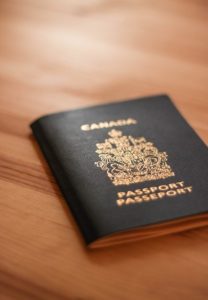 1968 to 1998 Junior Achievement
For many years we supplied money and talent to Junior Achievement.  JA is dedicated to giving young people the knowledge and skills they need to own their economic success, plan for their futures, and make smart academic and economic choices.
for many years, one of our members sat on the board of the local chapter of Junior Achievement (Irene Watson for 13 years)
1969- established an annual scholarship
supplied judges annually for their program
1998 to 2018 Zonta Classic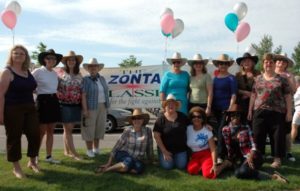 In 1998, the ZC of Hamilton 1 took up a challenge to all clubs in the District from the ZC of Kitchener-Waterloo. For five years, they had hosted a women's only golf tournament to raise money for breast cancer projects in honour of their past member Betty Thompson (Miss Betty from Romper Room). Our club orgainized the 5 clubs in Area 2 to assist us. The first of our tournaments took place at Glen Abbey GCC, and Bell and Wilson Sports were our major sponsors. In the first four years, our tournament was called the Bell Classic, and we raised $325,000 for breast cancer projects.
In the fifth year, each club decided to host their own tournaments. The ZC of Hamilton 1 renamed the tournament the Zonta Classic. Over the next seventeen years we earned over $500,000 which was donated to many breast cancer projects. For the final two years, we changed to focus to women's mental health.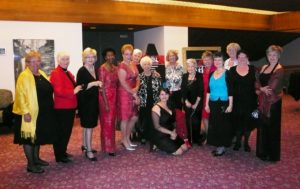 2010 Hummingbird Ball Honouree
The Zonta Club spent many years donating to breast cancer projects. In 1994, $20,000 was donated to pay for a van to transport women to the Ontario Breast Screening Clinic. Our members also volunteered for many years to drive the van. In 1998, we spearheaded the Bell Classic (became the Zonta Classic), a women's only golf tournament raising money for breast cancer projects. Over the next twenty years, the tournament raised $850,000 for breast cancer projects.
We were extremely pleased in 2010 to be the recipients of The Hummingbird Ball award. We were guests of Hamilton Health Sciences at a gala called A Latin Fiesta. President Anita Isaac accepted the award on our behalf.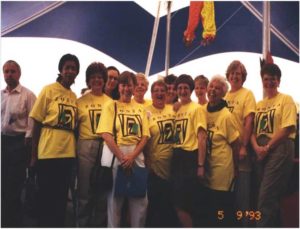 Teddy Bear's picnic at Chedoke
From 1992 until 2001, MUMC hosted the annual Teddy Bears Picnic for children. A special feature of this picnic was the free Teddy Bears' Hospital. Neighbourhood children were encouraged to bring their bears to the admitting tent. There they received a Teddy Bear Medical Chart and specially trained staff demonstrated the use of real equipment and hospital procedures to treat bear ailments. Zonta members attended for the first few years to distribute information about Zonta International. The picture is from 1993.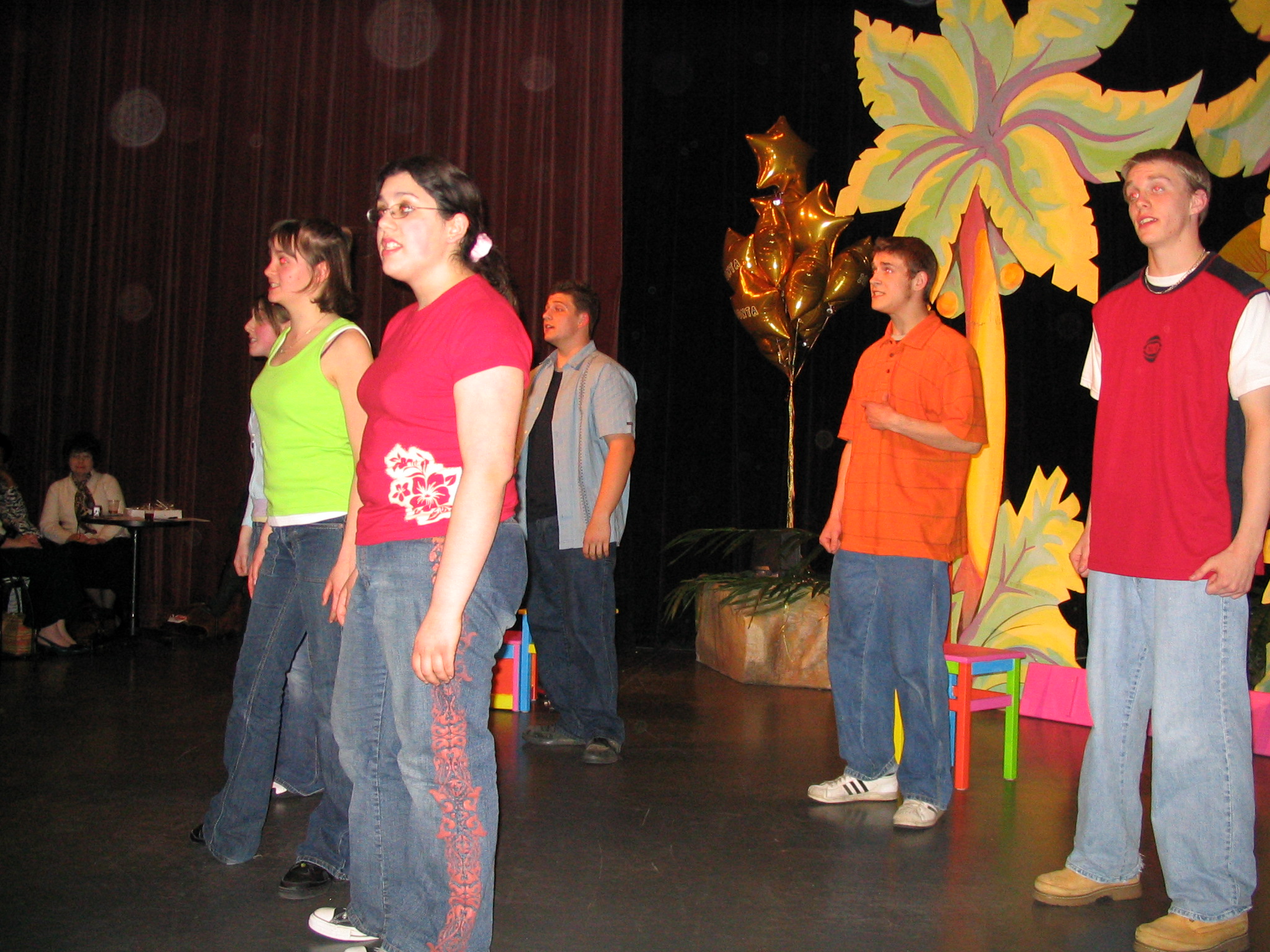 2004 Launch of "There's Got to be a Better Way"
In 2002 the club was the recipient of a grant from Zonta International (one of four in the world that year) which provided $25,000 US seed money. We partnered with the Zonta Club of Hamilton 2, Catholic Family Services and New Faces in a joint project to create, develop and implement a program to explore alternative dispute resolution through the medium of drama, using interactive, participatory theatre with children 7 to 12 years of age. The goal was to diminish all forms of violence against women and children in our community through the use of alternative ways to resolve disputes in schools, playgrounds and the community. The play launched in 2004 and was presented to over 20,000 children, their teachers and some parents. Other presentations included Children's Mental Health Ontario, the Attorney General Youth Justice Conference and the Zonta conference in Rochester, New York, USA.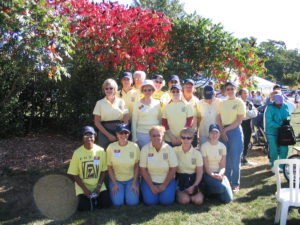 Mother Daughter Walk for Heart and Stroke
In 1995 we donated $10,000 to the Heart & Stroke Foundation, directed to a research project in Hamilton-Wentworth into heart disease in women. In 2004, we sponsored the Mother Daughter Walk for Heart and Stroke with a $5000 donation. In addition, many of our members walked and raised further pledges of $2740.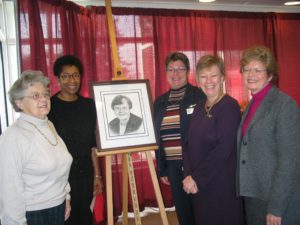 Opening of the Mary Keyes residence at McMaster
Dr Mary Keyes was a member of our club from 1981 until 1998. In 2004 our club was invited to attend the opening of the Mary E Keyes student residence at McMaster University. "Mary worked tirelessly to ensure students' interests and concerns were foremost in every aspect of her career at McMaster. An Associate Vice-Chair of Student Affairs from 1992 – 2002, Mary advocated for and devoted her career to building and enhancing student life and services at McMaster. Her hard work, energy and enthusiasm were unmatched". For several years before, Mary and her sister did "R & R" on the weekends- Residence Research! This well thought out residence was the result.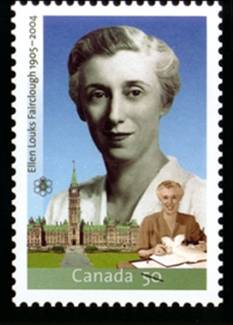 2005 Presentation of the Ellen Fairclough stamp
This video is a 2 minute pictorial presentation of the first 30 years of Zonta International.
This 16 minute video was produced and paid for by members of the ZC of Buffalo to commemorate the 100th anniversary of Zonta International. Dr. Vivian Cody, ZC of Buffalo narrates the story of our founder, Marian Deforest. Watch for 4 members of the ZC of Hamilton who appear briefly.
A 3 minute presentation in pictures of some highlights of Zonta International's Centennial.